TONIGHT: Lola Zinke Special Guest for Troy Downing
Helena – Tonight, Lola Zinke, wife of Secretary of the Interior Ryan Zinke, will be the special guest at a meet and greet event for Troy Downing in Whitefish.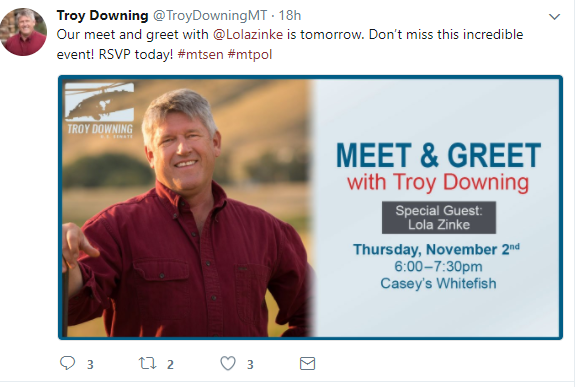 Zinke's support of Downing has already made headlines, both in Montana and Washington. According to a recent article in The Hill, "Republicans in the state describe Lola Zinke as well respected among conservative activists, with her endorsement as a 'signal' to her husband's supporters that Downing would govern in the mold of the former congressman."
 
It also sounds like he would govern in the mold of Donald Trump – Downing himself has been outspoken recently about cozying up to Trump. "I am fully a believer in President Trump," he told Bozeman's KMMS on October 19.
 
Makes sense, considering Zinke's own coziness with President Trump.